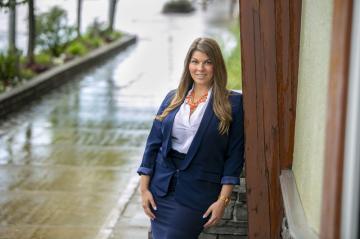 Areas of Expertise
Kimberly Pavao
Partner
KPavao@hsjlawyers.com
Direct line: 250.565.8760
Professional Profile
As a litigator, Kimberly has successfully argued cases in the Provincial Court of British Columbia, Supreme Court of B.C., and at the tribunal level including the B.C. Human Rights Tribunal.
Kimberly's practice has a particular focus on employment-related issues for both employers and employees. She provides clients with pragmatic advice on hiring, terminations and workplace policies and standards, helps clients manage employee and management issues and deftly manages their litigation matters. In response to the pandemic and ensuing government protocols and restrictions, Kimberly is increasingly called upon to provide employers with COVID-related occupational, health & safety advice – ensuring compliance with WorkSafe BC regulations and government health mandates and orders.
Kimberly leans in to "finding a forward-thinking result that makes sense for her/ the firm's clients – to get the best outcome for them in their particular circumstances, no matter how challenging." She is decisive and firm in order to set her clients up for success in the most cost-effective way possible while mitigating challenges.
Kimberly has experience in all aspects of litigation and can assist clients with family law and other civil litigation matters.
Assistants: Sue Schneider & Tanya Penner
On A Personal Note
Kimberly grew up in the lower mainland in a first-generation Canadian family with Portuguese, Ukrainian and Swedish roots. She completed her undergraduate studies at the University of British Columbia in Vancouver and went to law school in Windsor, Ontario. Feeling adventurous, Kimberly moved to Prince George to complete her articles. She chose to stay local after she was called to the Bar. To contribute to her new community, Kimberly became a member of the board of directors of the Two Rivers Gallery – an important cultural institution in Prince George – and supports local chapters of the MS Society and Cancer Society. She actively provides mentorship to upcoming law students through the Canadian Bar Association and to teenage girls in the Minerva Program.
Kimberly's skills as a litigator are enhanced by an eclectic set of hobbies. She has kickboxed, participated in beauty pageants, ballroom and Latin danced and performed in improv comedy – and perhaps most importantly for a career in litigation, she trained to be a professional wrestler. She also trained with the Royal Conservatory of Music and enjoys singing with the Prince George Illumina Women's Choir. Kimberly puts her singing skills to further good use in friendly karaoke competitions. She is an avid collector of pop culture vinyl figures and is a retro TV and movie trivia aficionado. Kimberly loves to dance and is an enthusiastic cake decorator (she holds a Wilton Method certificate).
Kimberly's cute bulldog Ralph occasionally accompanies her to the office.
Education
Bachelor of Arts, Political Science, and Sociology, University of British Columbia, 2009
Juris Doctor, Windsor Law, University of Windsor, 2013