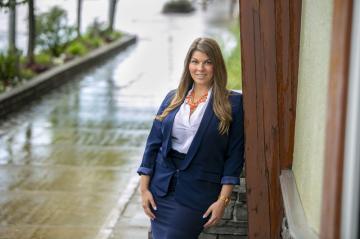 Areas of Expertise
Kimberly Pavao
Partner
KPavao@hsjlawyers.com
Direct line: 250.565.8760
Professional Profile
Kimberly Pavao is in your corner. In her specialties, the client is often going through upsetting times. Kimberly considers each case with the tactics of a quarterback.
"I like the challenge of building the defense or the offense," she said. "It is a helping profession and it is fulfilling to be there for people to navigate through problems and issues even if the advice is 'this isn't worth fighting over.'"
Her cases typically represent something the client wants to resolve decisively, quickly, practically. It's a problem to solve. Kimberly's training and ethics are tuned for those solutions.
"I always tell clients that I won't take it personally when the file ends and they say, 'thanks for your help but I hope I never have to see you again' because for their sake I hope the same thing."
Assistants: Sue Schneider
On A Personal Note
Opposition lawyers have no choice but to go toe-to-toe with Kimberly. She's a kickboxer in her spare time, and she may be a past beauty pageant contestant and improv comedy performer, but Kimberly also trained to be a professional wrestler.
Feisty spirit got passed around at the dinner table, growing up in a first generation Portuguese-Canadian household, mixed with Ukrainian and Swedish. She kicked off the covers with the rest of the family for many a 3am international soccer match on TV.
She is also a trained Royal Conservatory of Music vocalist, so she kicks butt at karaoke and games of Name That Tune. Kimberly also has a proud collection of pop culture vinyl figures, is a retro TV and movie buff, was on the board of the Two Rivers Gallery, and loves to cheer on the Canucks, Broncos and Tigers in her favourite pro sports leagues. She plays in a few local rec leagues herself, gets out on the Latin and Ballroom dance floors, and holds a Wilton Method certification for cake decorating.
She supports the local chapters of the MS Society and Cancer Society, and loves spending time with Ralph, her English bulldog.
Education
Bachelor of Arts, Political Science, and Sociology, University of British Columbia, 2009
Juris Doctor, Windsor Law, University of Windsor, 2013