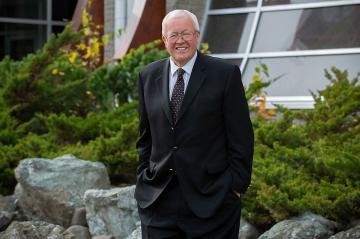 Areas of Expertise
David E. M. Jenkins, K.C.
Associate Counsel
Professional Profile
Dave Jenkins is an icon of criminal law in this region. He is the J in HSJ and was so notable for his defense work that he was appointed a Queen's Counsel in 1992, making him one of the longest holders of the QC designation in northern BC.
Dave has practiced criminal law throughout Central and Northern British Columbia since 1968. He travels widely in connection with his defence work and has appeared in almost every Provincial Court in British Columbia, as well as in the Supreme Court of British Columbia and the British Columbia Court of Appeal. He routinely drove more than 100,000 kms annually to service his clients, and still sometimes puts on five-digit work mileage in a year.
His portfolio includes defending cases of murder, arson, sexual assault, Wildlife Act offences, and many more. He is highly experienced in drug offences and impaired driving charges. His list of clients numbers is the thousands. He often utilizes the services of technical experts in his cases, such as those trained in the fields of engineering, polygraph testing, and alcohol or drug ingestion and elimination.
His history as a defender of the public's rights has made him a renowned name in Prince George and far beyond.
Assistant: Wendy Craig
On A Personal Note
Dave has been an inspiration and mentor to many other lawyers, but also to his friends, neighbours and the general public. He applies himself as much to the enjoyment of life and fostering of community as he does to his profession. As an outdoor enthusiast, he has been a guide-outfitter, horse breeder and farmer.
As a sports enthusiast he enjoys curling, golf, handball, but he is known far and wide for his two primary sports. As a player he won a national hockey championship in 1964 with the University of Alberta Golden Bears, then won another national championship with the Prince George Molson Oldstyler Lacrosse Club in 1974.
He then went on to titles like coach and commissioner in aid of local hockey and lacrosse leagues. For 12 years he was a director with the BC Lacrosse Association.
When he was inducted into the Prince George Sports Hall of Fame in 2012, organizers called him "One of the most respected men in Prince George," and added, "He has made it a better place to live, and compete."
All credit must be shared with his wife Johanna (Rees) Jenkins, the first graduate of UBC's physiotherapy program to ever move to Prince George. Together they raised four children and are now counting up their grandchildren in the city they love so much. When they arrived as newlyweds in the 1960s, the plan was to stay "a few years" then head back to Dave's hometown of Fort Saskatchewan, but, as Johanna said, "it all worked out and now it would take more than a team of horses to take me away from Prince George and David feels the same way."
In 1972, with his good friends Murray Sadler and Robin Heather, Dave co-founded HSJ and the rest is legal and Prince George history.
Education
Bachelor of Science, University of Alberta, 1964
Bachelor of Laws, University of Alberta, 1967