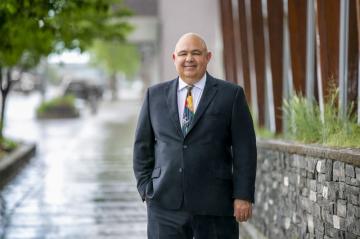 Areas of Expertise
Darren W. Lindsay
Managing Partner
DLindsay@hsjlawyers.com
Direct line: 250.565.8016
Professional Profile
It is often an emotionally charged and personally complex time in the lives of Darren's clients when they come to him for legal assistance.
"When I am able to assist a client navigate through the life-changing events of a separation or divorce to the point that they can once again carry on and thrive, I get great personal satisfaction," he said. In some cases, the situation can be quickly resolved, and sometimes Darren becomes a key part of his clients' lives for months or even years, and he is committed to reaching the best possible conclusion for each client.
Darren is adept at guiding his clients to resolution after separation, using a combination of negotiation, mediation and, if necessary, litigation through to trial. Each client comes to Darren with their unique situation and legal needs, which requires a personalized legal strategy.
Assistants: Wendy Zrobek, Tanya Penner and Ashley Thomas
On A Personal Note
Prince George seeped into the psyche of Darren Lindsay right from childhood. He was born in Nelson but moved here while very young, and even when he left for university and articling as a new lawyer in Vancouver, it was all designed to one day return to his northern hometown. He and wife Tricia raised their children here, and they are now young adults starting their own lives with this city as their foundation. (Baxter the bulldog is still at home.)
It's a city that provides Darren with all his personal interests at his fingertips: golfing, jet-skiing, cheering on the WHL Cougars, it's all here, especially judo. Darren, a third degree black belt, spent 30 years as a competitor, coach, referee, club organizer, and advocate for the sport.
He loves to travel, especially in the winter, but it's always a joy to come home where he lives, works, plays, and invests his passions. He is the co-chair of the HSJ Commonwealth Cup Charity Golf Tournament, raising funds for many local charities. "We raised over $40,000 for the United Way in 2019," he said proudly. It is one of the ways he gets to pay forward the positive results of bringing resolutions and new ways forward for his many clients who also happen to be neighbours and friends across the city.
Education
Bachelor of Science, Microbiology, University of British Columbia, 1984
Bachelor of Laws, University of British Columbia, 1989