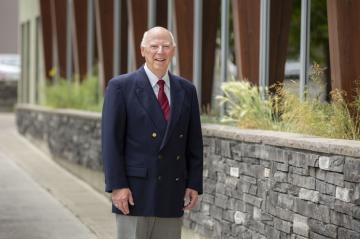 Areas of Expertise
Harris Johnsen
Associate Counsel
HJohnsen@hsjlawyers.com
Please call our main number to contact Harris.
Professional Profile
Harris is proud to have helped thousands of people over the years who have been injured in car accidents and other incidents. With over twenty-five years of experience in resolving injury claims, helping people who have been injured in car accidents is the most rewarding aspect of his career.
"I am easy to talk to and always available to help," said Harris, who has been practicing law in Prince George since 1975. In that time he has become one of northern BC's go-to lawyers for people who need legal help when they are involved in accidents.
Assistants: Melanie Hansen and Susan Case
On A Personal Note
Harris moved here as a young lawyer looking to be a helpful advocate in a place that also offered the feel of his hometown. He was born and raised in the Kootenays skiing community of Rossland, and Prince George was a city with ski hills, plus so much more. He still likes to hit the slopes, hit the links for a round of golf, and hit the gym for added fitness.
He is also an active member of the Prince George community with his volunteerism. Over the years he has contributed his time to organizations as the Regional Governor of the Trial Lawyers Association of British Columbia, a past member of the Prince George Brain Injured Group (BIG) board, past board member and vice-president of AIMHI (Prince George Association for Community Living), past member of the British Columbia Medical Appeals board, past member of the CNC Board of Trustees, and past member of Fraser-Fort George Museum Society board.
Harris has been married for thirty-three years and has an adult son who has also embraced the lifestyle and opportunities of Prince George.
Education
Bachelor of Commerce, University of British Columbia, 1972
Bachelor of Laws, University of British Columbia, 1974